Gas ranges combo with the oven is now more improved with certain features and modifications that make them more valuable. The additional features add up cost from a hundred dollars to several thousand dollars.
If you are in the market and you are looking for a gas range oven, you have to figure out the features you want in one. Do not go over the budget or get something that does not suit your needs.
TL;DR Best Stainless Steel Gas Range With Oven
[Full Disclosure: This is a professional review website and the reviews are done based on personal opinions. Some of the links below are affiliate links. Compensation will received if you go through them to make a purchase. Keep in mind that these products are suggested because of their quality and not because of the compensation received from your purchases.]
Gas Range Oven VS Electric
There are three types of ranges based on fuel: electric, gas, and dual-fuel, which pairs a gas cooktop with an electric oven. Both gas and electric have their advantages.
Electric Smoothtop Range
Ranges with electric radiant smoothtops are the popular pick. Most have expandable dual or triple elements that let you switch from a large, high-power element to a small, lower-power element within it. Some ranges have a warming element in the center to keep side dishes warm.
There is a lot of residual heat so when reducing the temperature it can take a few minutes to really settle at the lower setting.
Electric Induction
Electric ranges with an induction cooktop use magnetic coils below the ceramic glass surface to quickly generate heat directly to the pan, offering precise simmering and control.
Magnetic cookware is needed for induction to work. If a magnet strongly sticks to the bottom of a pot, it will work with an induction cooktop. Some stainless-steel cookware is induction-capable, and some isn't.
Gas Range
If a burner is measured in British thermal units (Btu) per hour. Most ranges have four surface burners in three sizes: one or two medium-power burners (about 9,000 Btu), a small burner (about 5,000 Btu.) and one or two large ones (about 12,000 Btu or more). Some have a fifth burner instead of a center section.
Response time is particularly quick, especially when compared to a radiant smoothtop. When you turn the knob from high to medium on a gas cooktop, the pot and the food in it experience that change almost immediately. And with most gas burners you can strike a match to light them when your power is out.
How To Buy a Gas Range Oven?
Purchasing a gas range for your kitchen is a major decision. Not only do you need to decide on the finish, but also you need to compare gas stoves to get the most features for your investment. Before you make any decision, measure the space where you plan to set the gas range.
Gas Range Sizes
Ranges start at 20-inches wide, then 24-inch, 30-inch is the most popular, 36-inch is mostly pro and some high-end regular ranges, with 48-inch and 60-inch being larger more expensive professional ranges.
We will be concentrating on 30-inch ranges, but following are highlights of others.
20-inch and 24-inch Ranges
They tend to be basic, designed for apartments, but Premier has some upgrades as does Blomberg with BlueStar marketing a professional range with incredibly hot burners.
36-inch Ranges
You have two types of ranges in this segment: The very attractive Italian types like Bertazzoni, Ilve and Verona versus the high powered professional types like Wolf, BlueStar and Thermador.
The difference is looks versus power and features of the pro at an added cost.
48-inch and 60-inch Ranges
These are exclusively high powered professional ranges. We cover these in some other articles like best 36-inch and best 48-inch ranges.
30-inch Ranges
As I said before, 30-inch is the most popular size by far. 85% of our sales are 30-inch.
You will have to choose between three types of ranges. Freestanding is the least expensive. Slide-in has no back guard for better aesthetics and then the Pro types with hotter burners.
Supported Gas Type
Pick a gas range suitable for the type of gas you have available. Natural gas piped into your home via utility lines is the standard in most cities. In rural areas, liquid propane, or LP gas, is the piped into the home from a tank. If you have LP gas, you must purchase a conversion kit for your range to operate properly.
Top 10 Gas Range With Oven Reviews
It's very important to have cooking appliances that operate properly and efficiently. In this section, we'll help you make intelligent choices when buying these products.
Thor Kitchen 30″ Stainless Steel Gas Range Oven with 5 Burner
Looking for a good product, you are recommended to look for Thor Kitchen. The product got the ninth-best place for various reasons. The oven comes with five burners so that you could enjoy maximum happiness with the ability to cook multiple dishes at the same time. Additionally, the drip pan is designed with black porcelain. The design must be brilliant.
Moreover, the oven fan enables the heat to spread evenly. Furthermore, whether you cook soup or fry ham, there is no such difficulty with Thor Kitchen. Lastly, the product comes with a two-year warranty on the hardware.
36″ Thor Kitchen 6 Burner Gas Range With Oven
The good product is still on a go. Thor Kitchen 36" is another good quality of gas range. There are various reasons that you could trust the product. The infrared boiling system provides the power to your oven to heat faster. Furthermore, the convection fan comes with a function to circulate heating so that the heat could spread evenly.
There is also an amazing design with this product. The interior design is of blue porcelain. Lastly, the product comes with a two-year warranty on some parts of hardware.
Thor Kitchen 6 Burner Gas Range with Double Oven
This gas range is actually manufactured to help you prepare meals as if you are a professional chef. With its capabilities of 2.5 and 4.2 cubic feet, this unit is just the right to consider for it has its space allowing you to get things all done. The power will just allow you of getting it done fast and easy. Its features include six high powered based gas burners allowing you to cook from a high heat for frying, searing and boiling. Its backsplash which can be removed could provide it the flexibility for freestanding and slide-in range.
Avanti 20″ Black Gas Range
You could also consider Avanti. Avanti gas range features several qualities. You could ignite the oven automatically with its electronic function. As a result, you don't need source of fire to operate this oven. In addition, there are a few types of burners including Simi Rapid, Rapid and Simmer. This provides you a wide range of options for your cooking habit.
Additionally, the package also includes LP conversion. Lastly, the temperature of this oven could range between 300° and 500° F. Such this temperature gives enough capacity to the way you cook.
Thor Kitchen 30″ Freestanding Professional Style Gas Range with Oven
Thor Kitchen HRG3080U serves as a good example of a good gas range. There are various qualities that make the product the most highly recommended one. The gas range is 4.2 cu. As a result, it could cook many dishes. In addition, the convection oven's power is 22,000 BTU. This large capacity is a good quality of the product.
For this model, there are four burners. One burner is 18,000 BTU while another burner is 15,000 BTU. The other two burners are the twin burners. They are 12,000 BTU. Moreover, the surface of gas range is made of stainless steel. This product also has a two-year warranty.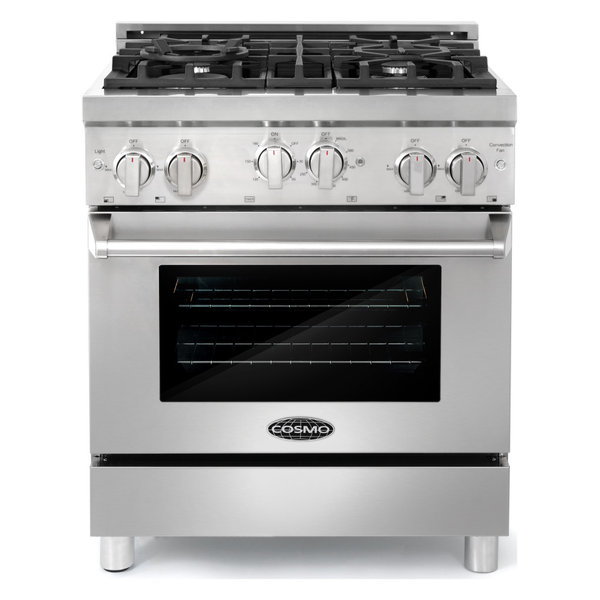 -19%
$
1,672.00
$

2,089.00
out of stock
Last update was on: November 8, 2022 7:41 pm
Transform the way you cook with, Cosmo's COS-GRP304 3.9 cu. ft. single oven gas range with gas oven is made with convenience in mind. Using 4 sealed burners, you can cook a variety of different food and sauces: 18,000 BTU, 12,500 BTU, 10,000 BTU and 4,500 BTU. A removable backsplash allows this...
Last update was on: November 8, 2022 7:41 pm
This freestanding gas range by Avanti offers 4 open burners with 9000 BTU. This range also features a broiler drawer. automatic electronic ignition. full range temperature control. push and turn controls. solid metal oven door. oven/broil burner with...
Which Freestanding Gas Range Oven To Buy?
It is not easy to make a decision for a good gas range. Yet, when shopping for one, we recommend you check the cooking capacity and number of burners so that you could fit to your home demand. Your much needed gas range could be the one in our list as well.
As a result, you should also take a thorough look at each of our descriptions of the products. After all, we respect your decision and wish you all the best.